==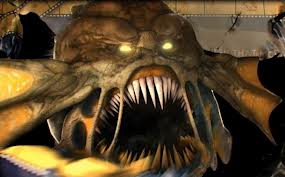 Honey Buzzer==

The Honey Buzzer is the first boss flavor monster in the game.
Like all the flavor monsters, Honey Buzzer is based on the artificial flavorings that tobacco companies add to mask the bad taste that tobacco usually has. In the case of Honey Buzzer, it represents honey(as its name suggests). As with all flavor monsters, the honey buzzer starts out as a cute little critter, but then mutates into a hideous monster. At first, it starts out as a small, yellow, bee like creature, with small fin like wings and a pointy tail, like a bee stinger. After it mutates, its skin starts to melt a little, growing large, warty bumps. Its "wings" become tattered and more fin like. It turns a grimier yellow, and its mouth is filled with razor sharp teeth. It stinger also becomes sharper, while its eyes become more sunken in, and its feet become more dinosaur like. The Honey Buzzer first appeared in the teaser trailer "Invasion: Day One", where it only appeared in brief glimpses and at the very end, bellowing a deafining roar.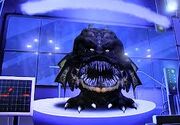 Ever since Flavor Monsters was announced, the Honey Buzzer has become one of the game's mascots, along with the Strawberry Monster and the Wild Apple. All three were made into figurines as part of the promotion for the app
Ad blocker interference detected!
Wikia is a free-to-use site that makes money from advertising. We have a modified experience for viewers using ad blockers

Wikia is not accessible if you've made further modifications. Remove the custom ad blocker rule(s) and the page will load as expected.